Choose your favourite activity
and explore our valley with Axl and Sylvia.
Discover how to live your active holiday to the fullest.
NATURE GYM

BIKE
ROCK YOUR BODY

FLYING
Back to the map
Get in touch to know more about activities and accommodation in Alta Badia!
YOUR DETAILS:
YOUR CHOSEN ACTIVITIES:
If you wish to change your favourites,
go back to the map
.
You did not add any activity to your favourites.
Do you want to know more about the activities you're interested in?
Go back to the map
and pick your favourites, we'll send you further information.
RECOMMENDED BY EXPLORE YOUR WAY:
HOTEL

Hotel La Majun ****s
Hotel Marmolada ****
Hotel Ciasa Salares ****
Hotel Gran Paradiso ****
Lagació Hotel Mountain Res. ****
Hotel Diana ***s
Hotel Melodia del Bosco ***s
Hotel Pider ***s
Hotel Ladinia ***
Hotel Serena ***
Mountain Nature Hotel Störes ***
Pension Runcac **

B&B

Garni + App. Adria **
B&B Ciasa Dorigo ***

RESIDENCE/APARTMENTS

Residence Vallon ***
Residence Ciasa Mirasas ***
Residence Ciasa Planat ***
Apartments Ciasa de Lenz ****
Apartments Brunella **
Please fill in all of the fields.
An error occurred. Please try again.
Request successfully submitted.
SUBMIT REQUEST FOR INFORMATION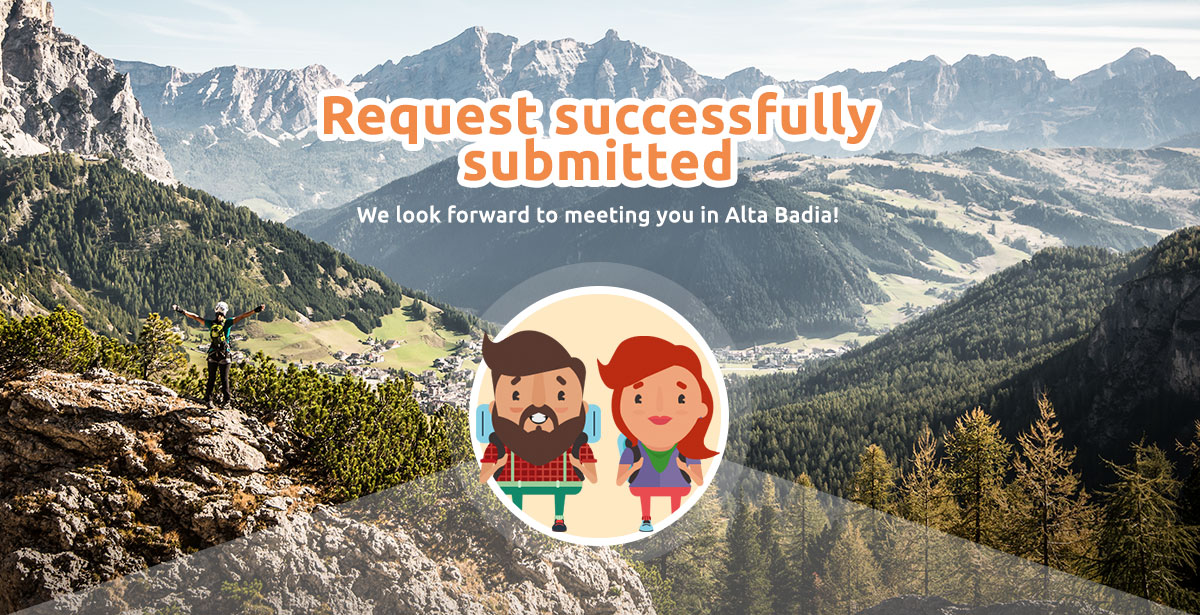 START AGAIN
BACK TO HOMEPAGE